Current Projects
My newest project is "Yurt, the Next Generation," which is going to be a series focusing on Antonia. I have published the first book, entitled The Starlight Raven. The book takes place a few years after Apocalypse, when Antonia is a teenager. It's "YA" (young adult), meaning it's aimed at a teen readership, but I think all my longtime Yurt fans will enjoy it too (and I know I have plenty of teen readers anyway). A tiny sneak preview is below.
I have published it as an ebook, available on Kobo, Barnes & Noble/Nook, iTunes, and Amazon. It is also available in print, for sale on Amazon.
I have also just published three new short novels (novellas) on Yurt! The first is entitled The Lost Girls and the Kobold, the second Below the Wizards' Tower, and the third and most recent is A Long Way 'Til November.
They are available exclusively as ebooks, available for all ereaders. The first story takes place between The Wood Nymph and the Cranky Saint and Mage Quest, and the second between Mage Quest and The Witch and the Cathedral, and the third between Daughter of Magic and Is This Apocalypse Necessary? All are designed to satisfy long-time fans who keep asking for more stories about Daimbert and also to interest new readers in Yurt. Click here to see the first on Amazon and to read the first chapter for free through their "look inside" feature.
All three novellas are also available in a one-volume omnibus, Third Time's a Charm. So.far it's an ebook (available for Kindle, Nook, Kobo, and on iTunes), but look for it in physical (print) format in the new year. The cover is by Jan-Michael Barlow.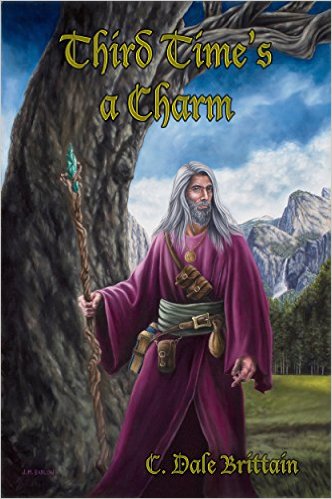 Enjoy the stories and let me know what you think!
For something completely different, I'm writing a novel that retells the "Tristan and Isolde" story, a powerful semi-Arthurian story that resounds with old Celtic legends. It's full of adultery and betrayal, nothing like the recent Hollywood movie--more like the original medieval version.
THE STARLIGHT RAVEN
PART ONE - WITCHES
Of course I knew my mother was a witch.
She never needed a match to light the fire. She knew immediately if someone new had come to town, even if she had spent the entire day at home, sewing. Sometimes in the evening, after she had finished tailoring a new ballgown for the mayor's daughter or embroidering a new altar-cloth for the church, women would knock quietly on our door, giving quick glances up and down the cobbled street, and Mother would tell them if they were going to have a baby boy or a girl.
But I had no intention of living an uneventful life as a small-town witch. I was going to study to be a real wizard.
That would be easy, I thought. My father was head of the wizards' school in the great City, a much more interesting place than our little town of Caelrhon. He'd said himself that I could come and study there when I became fourteen, the first girl the wizards' school had ever admitted. Already I knew how to turn someone into a frog, something even my mother couldn't do.
But on my fourteenth birthday it all became much less easy....
Return to the C. Dale Brittain home page