A Bad Spell in Yurt is back in print! For everyone whose 25-year-old Baen paperback is falling apart, this is your chance to get a brand new copy. Or introduce a friend to Yurt. It's just been reprinted as a trade (large-format) paperback. I've been able to get Tom Kidd's excellent original artwork for the cover.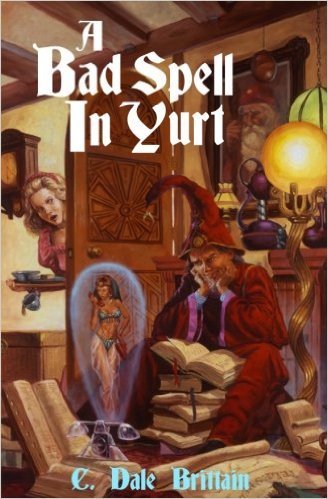 The book is available from Amazon and B&N and can be ordered from your local bookstore. To thank my long-time fans, I've arranged to have autographed copies available through my local bookstore, the Wooster Book Company. Quickest is to phone Carol, the store owner, at 330-262-1688 (Tues-Sat, 9:30-5:30). Or you can email her. Books generally ship within a few days, though a personal inscription can take longer.
Price $13.95 plus shipping and handling. Add Ohio sales tax if you live in Ohio. Carol can also get you signed copies of all the other C. Dale Brittain books, including the newest, Third Time's a Charm (an omnibus of three Yurt novellas), The Starlight Raven (first volume of "Yurt, the Next Generation"), and The Sign of the Rose (a medieval romance). Happy reading!