June 8 - July 6, 2009
INFORMATION SESSION 1: 4, 7 p.m., FEBRUARY 11, ROCK CREEK CAFE
INFORMATION SESSION 2: 4 p.m., APRIL 8, ROCK CREEK CAFE
INFORMATION SESSION 3: 4 p.m., APRIL 15, ROCK CREEK CAFE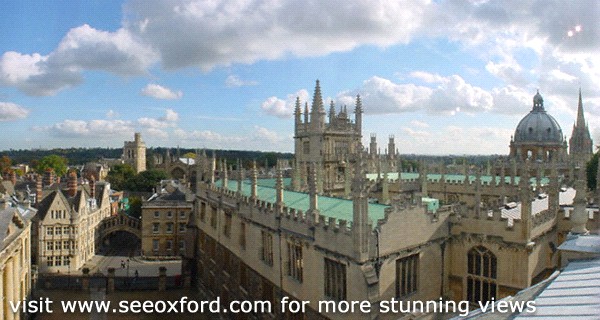 Oxford. More than 900 years old. Study with Heidelberg and Oxford faculty at New College (founded in 1379), one of the oldest colleges at the University of Oxford . Challenge your mind while earning Heidelberg College credit. Meet friends at the King's Arms, the "Turf," the Lamb and Flag, or the Eagle and Child, Tolkien's hang-out. Take a quick trip--a little over an hour-- into London for an evening show or club. Experience England. Take a weekend trip to Paris, Rome, Vienna--Europe is yours!

Mark your calendar now!

Heidelberg Summer Course at Oxford, June 8-July 6, 2009

Course Title: NDI 100 Perspectives of Time

Faculty:

Associate Professor of Geology

Professor of Computer Science and Philosophy

Faculty Coordinator for the Honors Program

Professor of English

COURSE DESCRIPTION:

This course examines the concept of time from the disciplinary perspectives of drama, geology, and philosophy. The course is offered at the University of Oxford in conjunction with the Oxford Study Abroad Programme (OSAP). The placement of the course at Oxford provides students with unique opportunities to study and reflect on the nature and meaning of time. Lecture and discussion, including guest lectures by Oxford faculty, form the core of the course. Substantial experiential learning will include such components as the horological and astrolabe collections at Oxford's Museum of the History of Science, the Royal Observatory at Greenwich, theatre productions in Oxford, London, and Stratford-upon-Avon, and guided trips to Cambridge, Salisbury, Stonehenge, Avebury, and Siccar Point in Scotland. Extensive travel opportunities are provided (both group and self-guided). Students will be affiliated with New College, University of Oxford, and may also obtain membership in the Oxford Union Society.
COSTS: $4,560 -- Covers tuition, 4 weeks Oxford housing, some bus tours, medical plan, counseling. Out-of-pocket expenses: all food, round-trip airfare to England, bus fare, train fare, airfare during travel week as desired, most admissions fees, and personal expenses. Most students should budget a total of approximately $7,500. Some will spend less, some will spend more. The entire amount is eligible as an educational loan--an option pursued by many students. Note: This is not a guided travel tour. Students are responsible for making their own travel arrangements to and from England, as well as travel in Europe.
Other Course Information Links:
Deadlines:
Making the Commitment: You should commit to the trip as soon as possible in the 2008-09 academic year so that housing arrangements can be finalized. Waiting until final exams in May 2009 to decide to go is risky, particularly with respect to your plane tickets. Our goal is to have the travel group more or less finalized shortly after 2009 Easter break. Space is limited. Contact any of the instructors or Dr. O'Reilly immediately when you have made the decision. This will allow us to update our list with our Oxford contact person.
Passport: Apply immediately, if you do not have a valid passport.
Course Registration: You will need to register for NDI 100 before the end of the Spring 2009 semester. The course will be posted on Reg.
Final Briefing: 6 PM, May 4, Rock Creek Cafe
Plane Tickets to England
Start shopping no later than January 2009 for your plane ticket. London-Heathrow (LHR) is closest to Oxford (about 90 minutes on the bus). London-Gatwick is about 2 1/2 hours from Oxford. Detroit (DTW) is a good departure point from northern Ohio. Departing from Toronto may be worth the drive. Check it out. Use June 6 or 7 as your departure date. Use July 7 or later as a return date.
Try Orbitz.com and StudentUniverse.com, Expedia.com, and Travelocity.com
UK and Europe Travel Information
See Oxford online:
The following links contain extensive travel information.
Train or bus?
Rail travel in the UK is not cheap for the last-minute occasional traveler. Bus/coach travel is a much cheaper alternative that will meet many students' needs. BritRail passes are a possibility, but you should try to calculate the cost of anticipated point-to-point travel before you buy (see "Oxford Travel and Timetables" above for prices). For students 26 and younger, select either the 4-day or 8-day BritRail Youth Flexipass. BritRail passes cannot be purchased in the UK, so you will need to buy the pass in the U. S. prior to departure.
Where Else Do You Want To Go?
You will have several opportunities for open travel, including an open travel week of your choosing at the end of the course from June 29-July 7.
10-Day Weather Forecasts:
Oxford London Cardiff Edinburgh Dunbar Dublin Florence Rome Venice Copenhagen Vienna Paris Brussels Prague Munich Amsterdam Athens Madrid Bern Warsaw Bucharest Geneva Budapest Lisbon Berlin Stockholm Zurich Barcelona Saint Petersburg
Cheap Airfares in Europe:
bmi british midland Cheap Flights SkyScanner WhichBudget AppleFares easyJet Ryanair Virgin Express Europe by Air
Flight Information:
BAA Home Page (Heathrow, Gatwick, Stansted, etc.)
Miscellaneous Links and Information
Currency Rates:
as of 4-Feb-2009
1 GBP = 1.44 USD
1 EUR = 1.28 USD
Hint: Use your credit card at every opportunity. Obtain cash with a debit card.
Information on Electrical Plug Adapters and Voltage Converters
Sample Course Materials from 2004 Trip:
Revised 8-Apr-2009