THE ADVENTURES OF MICHAEL ... The Cookie Kid!






When we had Michael's assessment at the completion of our kindergarten year, I was asked if Michael had a ministry project. I was stumped as I honestly hadn't thought of one for him at that time. For the next few weeks, I talked with friends and tried to get some ideas as to what I thought would work for him.

Some friends were having their children choose a person from church or in a nursing home. They would then befriend the person by visiting and sending letters and cards. I must be honest and tell you that I felt Michael was not mature enough for this type of relationship. I was afraid that he would enjoy this for a short period of time, then we would end up arguing over the writing or the visitation.

Some friends had children choose people to visit for only a period of time - three months, six months or one year. But that concerned me as well. I didn't want Michael to "drop" this person after that time. I would feel sorry for them.

One day we were making cookies and Michael asked if he could take some to our neighbor. Of course I said yes! While he was gone, I thought how nice that was of him to suggest surprising someone with cookies. Then it dawned on me that this could be a ministry for him. When he came home, I discussed it with him and he loved the idea.

We decided to bake cookies every other week. Michael was to do all the work if possible, while I "assisted." He decided upon Snickerdoodles because they are fairly inexpensive to make and he could do them pretty easily.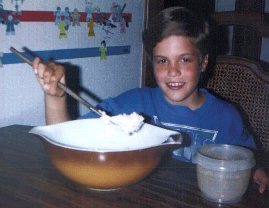 This is Baker Michael's cookie recipe:



Snickerdoodles

1 cup soft shortening
1 1/2 cups sugar
2 eggs
2 3/4 cups flour
2 teaspoons cream of tartar
1 teaspoon soda
1/4 teaspoon salt
sugar
cinnamon
Mix thoroughly shortening, sugar and eggs. Sift together and stir in flour, cream of tartar, soda and salt. Roll into balls the size of small walnuts. Roll in mixture of 2 tablespoons sugar and 2 teaspoons of cinnamon. Place two inches apart on ungreased cookie sheet. Bake until lightly browned, but still soft. Bake at 400 degrees for 8 to 10 minutes. Makes 5 dozen cookies.


Michael was able to do all the work, although I had to assist with mixing the dough (it is rather stiff), and I helped to take out the hot cookie sheets. He could barely wait for them to cool! He took an empty (cleaned!) ice cream bucket with a handle and filled it with the cookies. Usually he made a card or wrote a note to enclose. Sometimes he made construction paper decorations for the top of the bucket.

He made his very first delivery to the nursing home three blocks away. I went with him on this first trip. He marched right into the kitchen and asked to speak to whomever was in charge! He even saw a man whom he had seen and spoken to around town. I was so pleased to see him want to share these cookies so cheerfully. When we returned home, I had him dictate his experience to me.

This was his very first cookie dictation:

May 25, 1995
I decided to bake some cookies for the people at the nursing home - the one three blocks away. I mixed all the ingredients in a large bowl and then I rolled them up into balls, dropped them into cinnamon and covered them with it. And then I baked the cookies. They were called Snickerdoodles. I walked when it was raining to the nursing home. The cookies were in a nice, pink-topped bucket. I had a little bear on it and a card. I went right at eating time and they were almost done. I bet they've already eaten them up by now. I hope they enjoyed the cookies. I had fun visiting the people there.


Here are a few more of Michael's visits:

June 22, 1995
I baked cookies for my friend Norma today. She is a really nice lady. She is my neighbor across the main street. She is a very old person. Norma gives out all sorts of clothes to people in need of help, so I thought it would be nice to bake some cookies for her. I told her that when she gets back from the vet with Freddy, I would come over again. She said she would call when she got back. Freddy is her dog. It is very sick today. When she asked Freddy, "Are you going to get better tomorrow for some Snickerdoodles?" He said, "Ruff, ruff, ruff!" I got to visit her for about five minutes. And she gave me a cross that was made out of a nickel. She tried to give me some money. I refused to take it, but she said, "Take it!" So I said O.K. She is very persistent with things like that. She liked the card a lot. She said, "Thank you." She kissed me on the cheek. I said, "Bye!"

Norma and her dog, Freddy


July 6, 1995
I baked the cookies for Mr. Art. Mr. Art is an old man who bathes in the creek. His house does not have any water. His house is run-down and shabby-looking. It used to be a chicken coop. When we got there, we gave the cookies to a lady. And we asked her, "Does Mr. Art still live here?" "Yes," the woman replied. And we said, "We have some cookies for him. Where should we put them?" She said, "I'll take them and give them to him." So then we gave her the cookies. Me and my mom and a friend that we brought along who knows where Mr. Art lives, we were talking about that lady might eat them cookies. If she would decide to get nosey and greedy, she would find that card I made about God for Mr. Art. Mr. Art is not a Christian, but I'm hoping that the cookies will let him know God loves him.


This was the trip that touched me the most:
December 23, 1995
This time I baked cookies for an old lady. I don't know her name. She lives behind us about four houses. I baked cookies for her because her husband died last month. The old man was very mean to me and I yelled back at him, and now I feel very bad. Mom wanted me to bake cookies for the old man when he was still living (for the love of Jesus), but I refused. Now, I just feel horrible. I learned to respect old people even when they're mean to me. I hope the old lady dies knowing Jesus. I don't think the old man was a Christian. When I went to deliver the cookies, I came back to my house a couple of times because I was scared. I was scared that she would be as mean as the old man. When I finally had enough courage to knock on her door, she wasn't home. So I came home and I wrote a note to her that said, "Jesus told me to bake some cookies for you." I taped it to the cookie bucket, and I put it at her door. I was very happy after that.


I must admit, I was very proud of Michael and his cookie ministry. He rarely let me accompany him, and I let him choose to whom he wanted to give the cookies. Some people he visited more than once. One woman he enjoyed so much (we knew her from church), he visited her several times. She died last year and I know that Michael is happy he was able to spend some time with her.

Summer is coming and that's an easier time for Michael's Cookie Adventures. I think we'll have to put in a load of supplies and start baking Snickerdoodles again soon!

Michael likes to bake. He's a pretty good pie baker, too!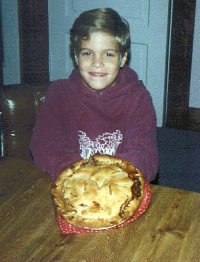 Go back to see what else I have on my web pages...



Return to our home page...