MAKE YOUR OWN LIGHTWEIGHT OPEN CONTAINER ALCOHOL STOVE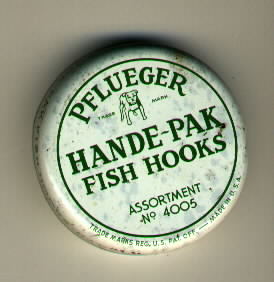 ---
Introduction
The stove and windscreen pot stand was designed by Mark Ziegler. The stove and windscreen pot stand weigh a combined total of 3 oz. This stove boils 2 cups (16 oz) of room temperature water in 6 minutes. Two tablespoons of alcohol will burn for 10.5 minutes.
Materials List
Open container or bottom 5/8 to 3/4 inch of a Potted Meat can or Vienna Sausage can
small amount of fiberglass insulation
sheetmetal
Instructions
Take a small amount of 3/16 inch fiberglass insulation and line the inside of the can. That's all!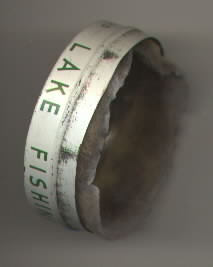 View of stove with a fiberglass wick
---
The Windscreen Pot Stand
I used a Mirro 1 qt aluminium scucepan bought from K-mart. Remove handle. Take screwdriver and pry rim on top of cookpot away from the body of pot. This will allow the windscreen pot stand fit inside the rim of cookpot. To made pot stand cut a 4.25 inch by 15 inch section of sheetmetal and then cut slots in the sheetmetal according to the drawing. Rollup the sheetmetal to fit the cookpot. Place pot on the pot stand and you are ready for cooking. The windscreen pot stand fit nicely inside the homemade popbottle container (takes up hardly no space).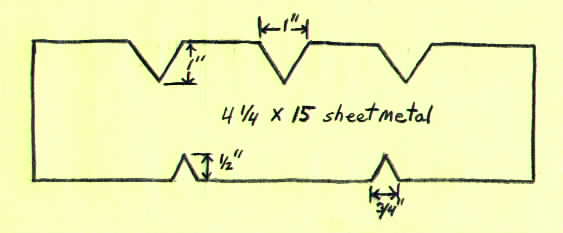 ---
Operation of stove
Remove lid and pour about 1 or 2 tablespoons of denatured alcohol into the can. The bottom holds two tablespoons and the lid of the can holds 1 tablespoon. Some of the alcohol will get soaked up by the fiberglass (it acts as a wick). Light the stove and push it under the pot. Cook.
Using a 1 liter pot, the stove should bring 2 cups of water to full boil in about 5 to 6 minutes. Use no more than that is needed, and plan to let it burn out. Another tip for faster boiling - paint the outside of your cookpot black.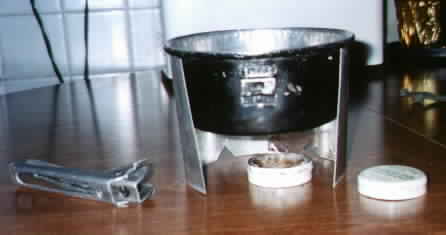 Cookpot, windscreen, stove and potholder.
---
Fuel Bottle
Take a 20 oz Flexi Flask (a water flask similar to Platypus) and fill it with alcohol and make sure you label it as containing stove fuel. To fill stove, remove cap, then laid the flask on the ground and slowly lower the cap end to the stove, pour the amount of fuel needed. This way I never spill any fuel. The flasks are available in Target stores. You now have a super no-spill 1 oz fuel bottle for alcohol fuels.
---
Return to Make Your Own Gear Index
---