MAKE YOUR OWN GAITERS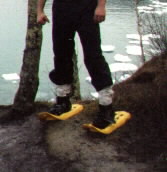 ---
Introduction
These gaiters are very easy to make and lightweight, less than one oz for the pair. I made these gaiters for snowshoeing, but they also work for hiking to keep dirt and grit out of shoes.
Materials List
Velcro - 3/4 wide
Tyvek - 2 pieces, 10 x 19 inches
Instructions
Simply sew the velcro hook fasteners one side of the top and bottom of the19 inch long edge and the velcro loop fasteners to the other side.
---
Return to Make Your Own Gear Index
---