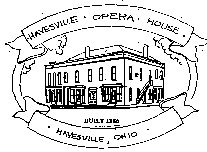 Hayesville Opera House
Virtual Tour
Look here to have a tour of the
Hayesville Opera House

Welcome to the Hayesville Opera House web page.


Thank you for visiting.

A National Registry historical landmark found in Hayesville, Ohio.
The Hayesville Opera House was built in 1886.

Now celebrating 134 years!


Providing affordable entertainment for the entire family.


Movies, plays and concerts.

Please browse the buttons below for additional information.